The American Academy of Pediatrics Website
Routines:
Creating Routines for Love and Learning
The Power of Using Everyday Routines to Promote Young Children's Language and Social Skills
Infant/Toddler Caregiving: A Guide to Routines 
Relationship-Based Practices:
Continuity of Care, Caregiver–Child Interactions, and Toddler Social Competence and Problem Behaviors
Including Relationship-Based Care Practices in Infant-Toddler Care: Implications for Practice and Policy
Early Caregiver Relationships Build the Foundation for Lifelong Learning
How to Care for Infants and Toddlers in Groups
Continuity of Care with Infants and Toddlers
Eating:
AAP Book – Nutrition: What Every Parent Needs to Know
When Can a Baby Sit Up in a High Chair?
How To Manage Messy Eating and Food Throwing
Diapering/Toilet Training:
Toilet Training Girls vs. Boys 1
Toilet Training Girls vs. Boys 2
Developmental Milestone: Nighttime Dryness
Bathing and Dressing:
How to Get Kids to Wash Their Hands
How to Dress and Undress a Baby
Sleeping:
8 Facts to Know About Infant Sleep
Essential Elements of a Baby Bedtime Routine
Teaching Your Baby to Put Himself to Sleep
8 Tips to Get Your Children to Bed with Brain Science
When Should a Baby Sleep Through the Night?
The Happiest Baby on the Block Method
Sudden Infant Death Syndrome (SIDS):
Communication and Baby Sign Language:
Baby Talk: Communicating with Your Baby
How Can I Practice Baby Sign Language?
The following chart shows the most common signs to teach infants and toddlers: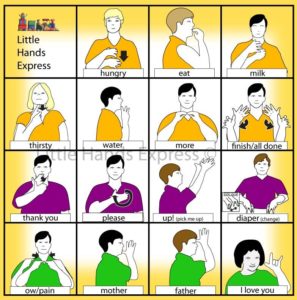 Additional Readings
American Academy of Pediatrics. Healthy from the start: How feeding nurtures your young child's body, heart and mind. Retrieved from https://www.zerotothree.org/resources/352-healthy-from-the-start
Gonzalez-Mena, J. (2007). What do to for a fussy baby: A problem solving approach. Beyond the journal, (September 2007), 1-6.
Im, J., Parlakian, R., & Sanchez, S. (2007). Understanding the influence of culture on caregiving practices: From the inside out. Young Children, (September 2007), 65-66.
Lally, J.R. (2012). Infants have their own curriculum: A responsive approach to curriculum planning for infants and toddlers. Retrieved from http://www.communityplaythings.com/resources/articles/infanttoddler/aresponsive.html.
Lally, J., & Mangione, P. (2006). The uniqueness of infancy demands a responsive approach to care. Young Children, July, 1-6.