Book Talks and Author Studies are wonderful ways to explore and learn about children's literature. I highly recommend doing them with the children you teach. They are also excellent additions to teacher education classes. I started doing these activities with my undergraduate students for two reasons:
1. I wanted my students to discover as many children's books as possible and learn about different authors and genres of books.
2. I had done both with children in the past and found them so enjoyable, that I thought young adults should have some fun too.
Book Talks: 
I begin my Emergent Literacy in Early Childhood Education class each year with Book Talks. I got this idea from Dr. Lesley Morrow from Rutgers University when I had to present one for her class. She an expert in the field of literacy and I was privileged enough to work and study with her during my doctoral studies.
For Book Talks, each student is asked to choose 6 books from 6 different genres to share with the class. They type up a list of title, author and genre that gets distributed to everyone in the class, and then they bring the books in to share with the group.
Here is an example: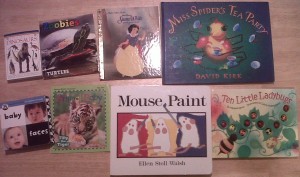 From left to right/top to bottom:
| | | |
| --- | --- | --- |
| Genre | Title | Author(s) |
| Informational Text | Pockets Dinosaurs | Neil Clark & William Lindsay |
| Expository Text | Zoobies: Turtles | Wildlife Education Ltd. |
| Fairy Tale | Snow White and the Seven Dwarfs | Disney/Little Golden Books |
| Fiction | Miss Spider's Tea Party | David Kirk |
| Picture Book | Baby Faces | Begin Smart LLC |
| Magazine | Animal Baby | National Wildlife Federation |
| Board Book | Mouse Paint | Ellen Stoll Walsh |
| Counting Storybook | Ten Little Ladybugs | Melanie Girth |
This event is great introduction to emergent literacy and the value of using children's literature in the classroom with children. The students leave having discovered books they had never heard of, and armed with numerous resource lists of books that they can later use in their teaching. They also learn about the vast amount of genres of children's literacy materials, which is very helpful for them when planning lessons. I teach them to always find books and other literacy materials to read to the children and share with them as informational resources for the content they are learning.
Author Studies:
Each student in my Early Childhood Curriculum 1 class has to present an Author Study during final exam week. The premise of the assignment is simple: Research an children's book author that interests you, find at least 5 of his/her books and read them and present what you learned about the author and the books to the class. As a group we get to spend an entire period learning about different types of children's book authors and examining their different writing and illustrating styles. It is a truly a fun class and everyone comes out of it with a long list of new children's books that they want to check out. They also leave with an understanding of different authors' reasons for writing children's books and the themes of their stories or illustrations.
Our Division of Teacher Education at Dominican College collaborated with PAEYC and LARC to bring an Author Study to our students this fall. Tad Hills came to Rockland County and presented to members of all three associations, and gave my students a glimpse of what an Author Study could look like if the author was the one doing it: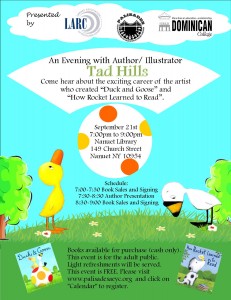 We gathered all of Tad's books and displayed them for everyone: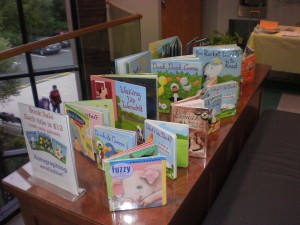 And sold books for him to autograph (here he is signing a book for my daughter):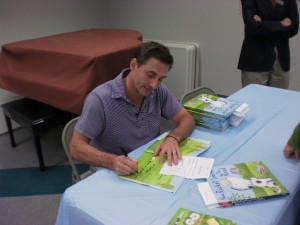 He then made a 45 minute presentation about his work. He talked about how the process of how he writes and illustrates:
He also showed us his new IPad application: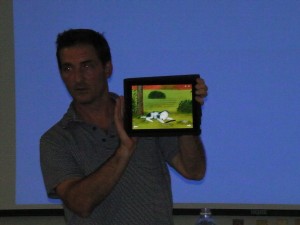 And shared a felt board activity he presents when he speaks to children about his books: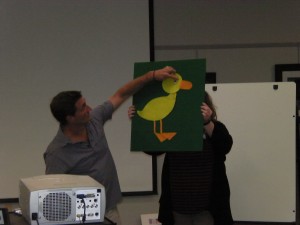 What better way to learn how to do an Author Study than to have a real children's book author show you how it's done? It was an inspiring and exciting evening. I highly suggest seeking out children's book authors in your local area to visit your schools. They are reasonably priced (especially if you get someone close and you don't have to pay for lodging and transportation), and they provide a great literacy experience for all involved. I'm looking forward to my students' Author Studies this semester. Tad certainly raised the bar high.
If this isn't a possibility, do one of your own for your students.
Here are the steps for an Author Study:
1. Select a children's book author with at least 5 books written and/or illustrated. 
2. Research the author. They key is to find out who they are and why they write/illustrate. Do their books have certain themes? Types of illustrations? Why?
3. Present as many of the author's books to your students as you can. Hit the local library and see what you can find. You can also find cheap used children's books online. I love Amazon.com's used books options. 
4. Present your "findings" about the author and his/her books to your students. Discuss and explore his/her work. 
You can take the Author Study a step further by creating learning experiences for you and your students where you:
1. Try to write like the author.
2. Emulate his/her illustrations using the same materials.
3. Participate in activities in centers or the content areas that are focused on one or more themes from the books (these are experiences that you set-up for your students to engage in).
Once you model an Author Study for your students, you can ask them to do the same like I do. It is amazing and enjoyable learning experience for all!